<![if !vml]>
<![endif]>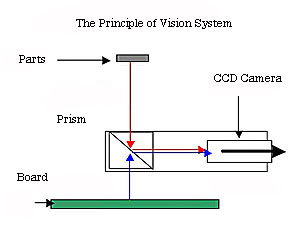 The positioning of the SMD as BGA is by optical high precision system. It is the system which image monitor on the screen, and the image is compounds of the parts and the board by the prism. The splitter system is used when the large size parts as 27mm or more. It is positioning by the expands diagonal image. The direct image system used when the parts is small size less than 27mm,

Positioning Screen by the Direct Image:
 
Fig-1:5x8CSP (5.0x8.0mm size)
Fig-2:Expansion of the CSP
Fig-3:The board image
Fig-4:CSP and Board image was overlaps on the screen.
Positioning Screen by the splitter Image:  

The splitter function is effective to the image of 27.0x27.0mm or more large size package.
Fig-5:35.0x35.0mm QFP
Fig-6:The image was cut off of the diagonal
Fig-7:The diagonal image is expanded on the screen. Positioning can be correctly by the expanded image.